What is Roman Heritage
Publicado el lunes, 04 de abril de 2011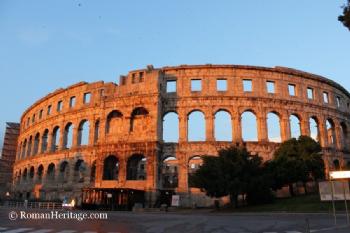 The website www.romanheritage.com main objective is the dissemination of the cultural heritage of the Roman Empire, so it is a nonprofit site which the aim to become a meeting place for academic and the general public.
Para ello cuenta con más de 20.000 imágenes e identifica más de 1.500 localizaciones de yacimientos, monumentos museos y centros de interpretación para visitar del mundo romano. Del mismo modo, hay referencias a libros, clásicos y contemporáneos, revistas especializadas, películas, actos culturales, fiestas y grupos de recreación histórica, páginas webs, así como de otros elementos culturales sobre Roma. Se trata de un proyecto abierto, al que se invita a participar a toda la comunidad académica, nacional e internacional, ya que en este comienzo se cubre tan sólo aproximadamente el 15% de monumentos y lugares de interés del total posible.
El fondo fotográfico cuenta con imágenes, de nivel aficionado, realizadas por el propio Dr. Centenera en sus viajes por países como Marruecos, Egipto, Jordania, Siria, Israel, Turquía, Grecia, Italia, Francia, Serbia, Croacia, Reino Unido y España, así como con el fondo de la página web www.theatresantiques.fr cedidas de manera gratuita por el especialista francés de la ciudad de Orange, Mr. Claude Philippe, y algunas fotos sueltas cedidas por terceros a Romanheritage. Las fotos estarán disponibles para las autoridades culturales, los centros académicos y los medios periodísticos de manera gratuita, siempre que citen la fuente y provean los medios físicos para la adquisición de los mismos.