Advertise on RomanHeritage.com
Publicado el miércoles, 13 de abril de 2011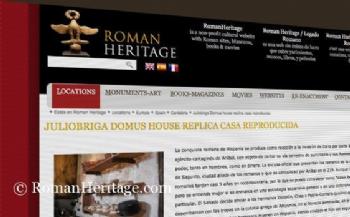 Our database has over 20,000 images and identifies more than 1,500 locations of sites, monuments and museums to visit the Roman world, which will make it a reference site for academics and the general public. Help us keep it updated with your advertising.
Del mismo modo, hay referencias a libros, clásicos y contemporáneos, revistas especializadas, películas, actos culturales, fiestas y grupos de recreación histórica, páginas webs, así como de otros elementos culturales sobre Roma.
Se trata de un proyecto abierto, al que se invita a participar a toda la comunidad académica, nacional e internacional, ya que en este comienzo se cubre tan sólo aproximadamente el 15% de monumentos y lugares de interés del total posible.
RomanHeritage.com es una plataforma ideal de publicidad, para aquellas empresas relacionadas con el mundo romano: productores de reproducciones arqueológicas, coleccionistas, alojamientos cerca de yacimientos, revistas, etc.
Ponte en contacto con nosotros para conocer nuestras ofertas publictarias.
Se ha especificado más de una vez la misma columna en la lista ORDER BY. Las columnas de la lista ORDER BY deben ser únicas.